Inauguro oficialmente esta nueva sección que revisará lo último en series de TV que he visto. Empezamos entonces:
1. Battlestar Galactica (2003) - La Miniserie: Esto fue lo que dio inicio a la serie que terminó este año y que pienso ver en su totalidad, si no me aburre antes. Bueno, este es un remake de la serie de los 60 que duró una temporada y que es un favorito de nuestros padres, seguramente si son los suficientemente viejos como el mío. Bueno, los humanos crean unos robots hace muchos años que se llaman Cylons, ellos se rebelaron por lo que ellos deciden escaparse al espacio y formar doce colonias. Cuarenta años despuñes de esta gran guerra, el Battlestar Galactica está preparado para retirarse y transformarse en museo. De pronto, ataque multiple de los Cylons contra las colonias, a medida que van encontrando naves humanas, las van destruyendo, la raza humana ha quedado extinta. Salvo por los miembros de la Battlestar y de otras naves, las cuales han podido escapar con "saltos" a la velocidad de la luz o alog así. El problema es que los Cylons han evolucionado y ahora toman la apariencia humana. Los personajes desconfiarán entre sí de ahora en adelante, y eso es lo que distingue a la serie. Con tres horas, esta miniserie se vuelve algo que todos deben ver para iniciarse, además de ser esencial para cualquiera que se considere fan de la ciencia ficción. Le pongo un 8.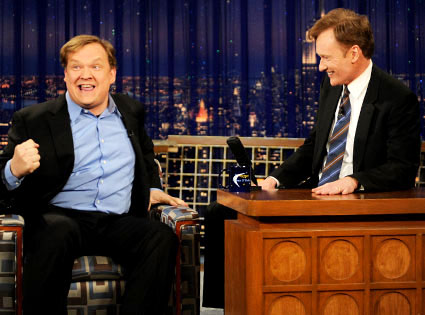 2. The Tonight Show with Conan O'Brien (2009) - S1.E01: La vuelta en gloria y majestad del host más gracioso del planeta, Conan O'Brien, ahora reemplazando a Jay Leno. El sketch del inicio y el del Tour en los estudios Universal. La entrevista con Will Ferrell estuvo divertida, pero fue a promocionar una película horriblemente mala. Lo otro fue ese grupejo que no me gusta y eso es lo malo de Conan, nunca me gusta el invitado musical. Un gran comeback, le pongo un 9.
Espero que les haya gustado.