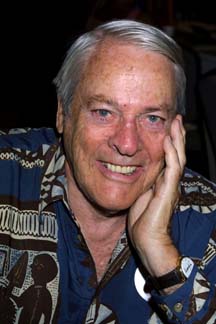 Lamento informar sobre la muerte del espléndido actor Kevin McCarthy, a los 96 años, de causas naturales en el día de hoy. Pese a haber actuado junto a grandes como Marlon Brando y Marilyn Monroe, es recordado más por su trabajo en el teatro (Broadway y One Man Shows) y por su actuación en "Invasion of the Body Snatchers" de 1956, haciendo del doctor Miles J. Bennell, quien es el que descubre todo el complot tras la aparición de estas plantas/marcianos que se apoderan de los cuerpos de sus víctimas, asimilándolos.
Este rol lo habría de "perseguir" el resto de su vida y, pese a su extensa trayectoria, me quiero fijar específicamente en tres momentos que simplemente demuestran lo buena gente que era y lo divertido que debe haber sido actuar con él.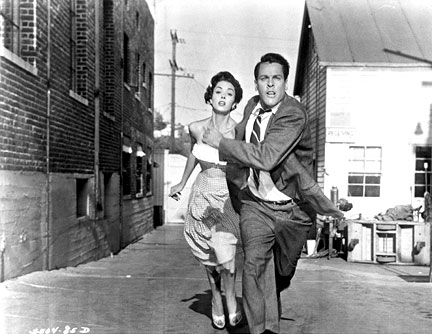 En la película "Invasion of the Body Snatchers" (1956) nos entrega una de las mejores actuaciones de género de los años 50 (cosa difícil de encontrar debido a la cantidad de películas de bajísima calidad en ese ámbito durante esos años). La paranoia y cierta locura derivada de la desconfianza. Es increíble lo buena que puede ser finalmente la película, pese a su obvio mensaje anti-comunista, pues se debe principalmente a este personaje y a la interpretación de Kevin, que es realmente magistral y llena de sudorosa tensión y palidez temerosa.
En el remake de la misma cinta, "Invasion of the Body Snatchers" (1978), Kevin McCarthy aparece de repente ante Donald Sutherland en su auto, gritando las mismas palabras que decía su personaje al final de la original. Verlo en la película, con el mismo vestuario y peinado, nos damos cuenta que ha llevado todo este tiempo evitando a los pods y haciendo lo posible por prevenir a los demás sobre los mismos. El cameo es corto, pero impresionante, debido a la capacidad que tiene de repetir su papel más famoso en una reinvención del que sea el filme que más satisfacciones le haya traido. A continuación les dejo el video con su cameo, parte en 07:43.
Y finalmente, en la terriblemente infravalorada"Looney Tunes: Back to Action" (2003) aparece dentro del Área 52, entre un montón de referencias a películas y series de ciencia ficción de los 50s-60s, aparece Kevin McCarthy realizando una burla directa al personaje original de la película de 1956, con un pod entre sus brazos, murmurando/gritando las mismas palabras, amenazantes y ahora en un tono simplemente referencial y jocoso, que en vez de burlarse, le hace honor a su persona y a la película. Viendo este trozo hoy pude reirme muchas veces, pues aparte de ser sin duda la mejor parte del filme de Joe Dante (toda el Área 52), me pude dar cuenta de lo buena persona que debió haber sido, capaz de actuar a los más de 80 años que debió haber tenido en ese tiempo (casi 90) para hacerle un honor al papel que más alegrías le ha proporcionado. Les dejo el trozo a continuación, su aparición es en el 04:55. Lo mejor, sin duda es que aparece en blanco y negro. GENIAL.
Que descanse en paz este gran hombre y que ya esté con Dios.