¿Cada cuántos años es que un Viernes Santo cae una semana antes de un Viernes 13? Creo que no es una ocasión muy común, por lo cual he decidido llamar este día el Santo Viernes 13, lo cual me llevará a hablar de mi franquicia slasher/de terror favorita de todos los tiempos, la saga de aventuras y desventuras de jóvenes y jovencitas enfrentados a la omnipotente y siempre presente figura de Jason Vorhees.
Ahora, ¿por qué esta saga? Creo que la saga de Viernes 13 sabe lo que es un slasher, lo define y lo personifica, sin Viernes 13 no creo que tengamos el género slasher para partir. Mientras que ninguna de sus cintas sean obras maestras (cosas que sí podemos encontrar en las primeras versiones de otras sagas de terror), sí mantienen un tremendo nivel de calidad a medida que las secuelas van apareciendo a lo largo de los años. Mientras que para algunos pueden ser repetitivas, siempre estos slashers contenían elementos que lograban llevarla a un ejercicio estético de repetición enormemente valorable que hace del conjunto algo memorable en verdad.
Entonces, la forma en que viajaremos por este periplo del horror y de Jason y la sangre es a través de la cronología de las cintas, con un poco de opinión y un ranking final sobre 10, como siempre.
· Friday the 13th (1980, Sean S. Cunningham)
¿Quién habría pensado que una inocente y calmada variación de "Halloween" (1978) podría llegar a dar a luz a una de las mejores sagas de terror de la historia del cine? Por que hay que admitir que esta primera cinta, grabada con cierta seriedad que gradualmente se iría perdiendo con los años, está llena de efectos especiales de primer nivel, sustos genuinos, así como una presencia verdaderamente fantasmal en la forma de un acosador que se esconde en el bosque (lo cual se repetiría en toda la saga, pero aquí sin nunca mostrarnos completamente la contraparte de esa mirada, mientras que en las posteriores, el cuerpo del asesino toma predominancia), pero pese a todo, no es más que un correcto ejercicio de traslado de una trama como la de "Halloween" (1978) a un lugar mucho más juvenil que una noche de asesinatos de niñeras. Sin embargo, este material se eleva por la tecnicidad y las actuaciones, impresionantemente decentes para una cinta de terror. Esta es, sin duda, la mejor de la serie. (8/10)
· Friday the 13th Part 2 (1981, Steve Miner)
La continuación directa de la cinta anterior parte con la que sea quizás la mejor escena inicial de una película en la historia de siempre, y eso es difícil de superar, pues lo que sigue no es tan interesante como eso. Partimos con la única sobreviviente de la primera película, siendo asesinada por Jason, quien se ha venido a vengar por todo lo que hizo en la primera cinta. Ahora, esta película sigue una estructura similar, donde varios personajes variopintos (y a veces muy sobresexualizados) llegan a Camp Crystal Lake (o Camp Blood para los que siguen la leyenda) a pasar un rato. También acá es donde la figura de Jason hacia el final se vuelve realmente presente e importante, como un bruto con una fuerza más allá de lo posible, además de contener una enorme cantidad de sustos impresionantes (así como muertes que uno simplemente no esperaba), y un elemento realmente perturbador hacia el final en cuanto a la forma de sobrevivir que tiene nuestra última chica. Sigue con los aires de la original, repite una fórmula exitosa, nos da un nuevo personaje y tiene grandes escenas, otra de las mejores. (8/10)
· Friday the 13th Part III (1982, Steve Miner)
El mismo director pero no el mismo éxito. Es aquí cuando se puede notar de qué era capaz la serie cuando tomaba malas decisiones, pues tenemos aquí un ejercicio de reiteración que resulta interesante solamente en retrospectiva, pues nos aburrimos de muerte cuando es mirado por primera vez, pues las escenas y situaciones son tan similares y especulares a las de la primera cinta, que mas bien parecemos estar frente a un remake, pero con características de secuela. La gracia de esta cinta no llegó a mis ojos en el momento en que tuve el DVD en mis manos: que fuera en 3D. Pero de todas maneras como ejercicio slasher es memorable por el hecho de que Jason toma acá la máscara que lo hará mundialmente famoso, así como jugar un juego de roles, donde repite todos los eventos de la primera cinta, pero cambiando a la madre por Jason y a Jason por la madre. Resulta interesante en el papel, pero en escena, solamente tenemos escenas en las cuales ocurren cosas en altura y con yoyós para justificar el 3D, el resto, nada interesante. (6/10)
· Friday the 13th: The Final Chapter (1984, Joseph Zito)
Vaya, revisamos dos cintas de Joseph Zito en muy poco tiempo, siendo la anterior la mediocre "The Prowler" (1981), pero esto es harina de otro costal, y para muchos la mejor película de la serie, iniciando a su vez una nueva serie de cintas, pese a que en su nombre está la palabra "FINAL", pero no nos olvidemos que Jason es inmortal, sin importar las veces que sea ahogado, asesinado, acuchillado, decapitado, quemado, entre tantas, tantas otras. Aunque yo no sea de la opinión generalizada de que esta sea la mejor de la saga (sin duda me quedo con las dos primeras, lejos), sí es excelente y mucho mejor que la anterior, por que simplemente entretiene y divierte mucho más, presentándonos a Corey Feldman interpretando al mejor personaje de toda la serie después de Jason Vorhees y su madre, el niño Tommy Jarvis, quien volvería a aparecer en otras secuelas como un personaje con una línea de conflicto muy loca. Aquí se pela y se conecta psíquicamente con Jason, además de ser un nerd que crea sus propios efectos especiales (tremendamente profesionales para estar hechos por un niño en el bosque). La cinta se mueve por una fina línea entre la diversión total, las muertes ridículas y cosas completamente fuera de lugar (el perro suicida viene a mi mente como una cosa que me hizo pensar que esta era una mala película), pero todo mejora gracias a la interpretación de Crispin Glover como uno de los jóvenes que cae víctima de Jason, un año antes de su magistral interpretación como el joven padre de Marty McFly en "Back to the Future" (1985). (7/10)
· Friday the 13th: A New Beginning (1985, Danny Steinmann)
Una bocanada de aire fresco, un nuevo comienzo, algo diferente y completamente nuevo es lo que vemos ahora en la pantalla. Con un comienzo espectacular, contando con la participación especial de Corey Feldman haciendo del mismo papel de la cinta anterior, donde ve cómo la tumba de Jason es abierta por dos impertinentes justo en el momento en que este decide volver de la muerte y matar a estos dos, mientras el pobre Tommy Jarvis grita y despierta como un adolescente, perdido e internado en un lugar para enfermos mentales debido al frágil estado de su mente luego de los eventos de la cuarta película. Cuando es trasladado a un lugar más seguro en el bosque y al aire libre, conoce a un montón de gente, tan loquita como él, lo cual da lugar a secuencias muy graciosas y tristes de interacción genuina mental deforme. Luego de la muerte de uno de los pacientes a manos de otro (en la que quizás sea una de las mejores escenas de la historia de la saga), una serie de asesinatos, cometidos bajo una figura similar a la de Jason, pese a que Jarvis sabe que este está muerto. Esta película es brutal debido a la enorme cantidad de muertes y cuerpos tirados al viento, así como secuencias tremendamente psicodélicas y graciosas. Es un filme distinto, con un Jason que puede que no sea Jason, pero qué importan, creo que es lo mejor que tiene la cinta, que no trata de seguir el patrón de siempre: nos da una historia más original, nos da personajes queribles, así como un final prometedor que no fue aprovechado en las secuelas siguientes. Esta es para muchos la más odiada, pero para mí es una de las mejores por su frescura y acercamiento sin miedo a la violencia sangrienta de la peor clase, sucia y revuelta en el suelo. (8/10)
· Jason Lives: Friday the 13th Part VI (1986, Tom McLoughlin)
Y volvemos. Pese a tener quizás la mejor escena inicial después de la de la segunda parte, donde vemos cómo Tommy Jarvis va a la tumba de Jason para rematarlo de una vez por todas, sólo para que le caiga un rayo encima y reviva con ganas de asesinar, ahora sí como una máquina imparable e inmortal, un zombie, el zombie más fuerte de la historia del cine (y seguramente de la ficción), que no puede morir y no será nunca derrotado. Lamentablemente, este es el sector que menos me gusta de la serie, pues como zombie es demasiado poderoso, entonces sé que algo extraordinario debe pasar para derrotarlo, y aquí volvemos a una fórmula de jóvenes que llegan a Crystal Lake para ser asesinados, mientras Tommy Jarvis trata de convencer al jefe de policía de que la amenaza de Jason es real, pese a que lo consideren loco, algo que ya en 1986 era un recurso muy viejo para hacer retardar la evidente pelea entre Jarvis y Jason, la única cosa que terminaría con la derrota de Jason, eventualmente. Esto hace que las cintas se vuelvan muy repetitivas y predecibles, pero acá hay algunas tomas interesantes en la carretera, así como la enorme cantidad de desastres y destrucción que Jason puede hacer con un simple y bello machete. Aunque ya debe haber sucedido, es aquí cuando la popularidad de Jason en Estados Unidos y el mundo explota, y con eso mi interés falla. (6/10)
· Friday the 13th Part VII: The New Blood (1988, John Carl Buechler)
Aquí tenemos una de las pocas cintas interesantes de esta segunda etapa de Jason zombie, y es por la inclusión de un personaje con un elemento lo suficientemente fuerte como para hacerle frente a Jason de igual a igual. Hablo de la telekinesis, que seguramente en la época en la cual se hizo esta cinta, estaba de moda, con chicas telekinéticas por doquier. Una de estas chicas vive en Crystal Lake y ahora se ha dado cuenta del verdadero poder que tiene y que lo puede llevar a salvar al nuevo grupo de adolescentes que están acampando cerca del clásico camping, tierra de Jason Vorhees. La película es interesante en su paleta de colores y en los efectos especiales que pone en juego para mostrar en primer plano los colores cálidos y fríos en contraposición de estos dos personajes, algo que se retomará en otra cinta de la serie (de alguna manera). Sin embargo, además de la técnica, tenemos las actuaciones, que son sorprendentes y muy aplaudibles de parte de nuestra protagonista como de los otros personajes. Además, Jason está más feo que nunca, una que hay que ver sí o sí. (7/10)
· Friday the 13th Part VIII: Jason Takes Manhattan (1989, Rob Hedden)
¿Por qué? ¿Cómo es que alguien puede destruir la mitología de una serie tan reconocida y legendaria como la de Jason? Quiero decir que esta película se ha ganado una fama especial por destruir todo lo bueno que había en la saga, transformándola en una serie de chistes de mal gusto, bromas autoreferenciales que no tienen ningún sentido, así como simplemente malas decisiones, como es llevar a Jason lejos de Crystal Lake, o que parte un barco desde un lago y lo lleve al océano (creo que lo explican, pero es tan ridículo que no me lo creo). Creo que sólo puedo decir que hay una buena escena en toda la película... bueno, tal vez dos, pero una es tan ridícula que resulta genial. Hablo de la escena en que Jason anda por Manhattan y patea una radio, simplemente increíble. La otra es un asesinato, donde Jason simplemente le vuela la cabeza a un pobre joven de un puro golpe, la cabeza luego rodando y llegando a un tarro de basura (Comedia). El problema principal de la película es que pasa demasiado tiempo en el bote, en un relleno que da lata y donde matan a la mayor parte de los personajes, dejando poco juego para el supuesto plato fuerte: Nueva York. El final debe ser el peor final de toda la serie, con una lógica y tomas extrañísimas, así como algo que remite a la primera cinta de la peor forma posible y con los peores efectos especiales vistos en el planeta. Simplemente, algo que es mejor evitar. (4/10)
· Jason Goes to Hell: The Final Friday (1993, Adam Marcus)
Hay varias razones para que me guste y varias razones para que no me guste, pero esta secuela (la novena película de Jason) es lejos de ser la peor de la serie (ni siquiera es la más mediocre), basta con mirar la cinta anterior para darse cuenta de ello. Me parece interesante cómo la figura de Jason es determinada como algo simplemente maligno, maldad pura, y es transformado en una especie de parásito que empieza a poseer a las personas, pasando de cuerpo en cuerpo, pero todo eso se tira al garete cuando al final logra recuperar su cuerpo original y se pone nuevamente la máscara y sale adelante con fuerza. Pese a eso, tiene guiños interesantes a la serie de Evil Dead de Sam Raimi, como la presencia del Necronomicón en la supuesta casa de Jason (otro error), y el final cuando el guante de Freddie Krueger lo toma de la cara para arrastrarlo al infierno, dando una pista a lo que seguía, un crossover de ambas franquicias, algo que no pasaría hasta que pasaran 10 largos años, y fueron bien esperados, pues nos dieron algo mejor que esto que está mal pensado, dos de cada tres escenas no funcionan, las actuaciones son realmente asquerosas y todo se ve tan campestre que da rabia la resolución tan simple que llevan a cabo para terminar con Jason "para siempre". Ojo, que esta es otra película que dice "FINAL", pero no es el final de Jason, divertido, ¿no?
· Jason X (2001, James Isaac)
¿Qué importa si es o no es Viernes 13? ¡Tenemos a Jason para hacer nuestra película! La verdad no quiero ni empezar a hablar sobre esta cinta, pues para mí no es tan solo la peor película de la serie de cintas de Viernes 13, sino que también es candidata a una de las peores películas de terror de la historia del cine. Completamente inútil, la película no sabe construirse ni ser ágil y mucho menos ser inventiva en su concepto. Jason Vorhees en el espacio es un concepto medianamente aceptable, pero un Jason con nano-máquinas es algo que ya debe empezar a preocuparnos acerca de su plausibilidad (sin importar la enorme cantidad de tiempo que pasa hacia el futuro). Es basura, es basura y es basura, no sé qué más decir. Todo en esta película está mal, no tiene el alma ni la diversión ni las ganas de ser algo medianamente bueno, sólo quieren hacer una cinta de ciencia ficción (que apenas logra su cometido por las enormes fallas científicas) con un asesino en serie de otra época, haciendo todo muy interesante con charlas que implican cosas más allá, pero que no son más que relleno para esperar las muertes que son aburridas y poco satisfactorias, y debo admitir que esta es la peor cara del slasher moderno. (3/10)
· Freddy vs. Jason (2003, Ronny Yu)
Todo lo que tenía que decir sobre la cinta lo dije
acá
. (7/10)
· Friday the 13th (2009, Marcus Nispel)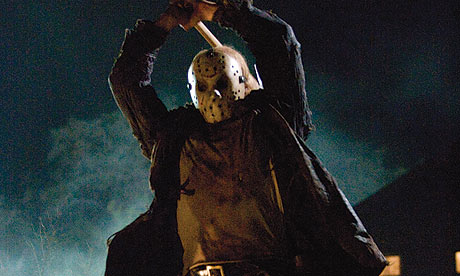 Este sí que es un remake de la película original, pero tomando los peores elementos de las peores secuelas de las originales. ¿Qué se puede decir? La cinta no tiene ninguna buena actuación y es tremendamente aburrida en sus últimos 45 minutos, pues se convierte en una seguidilla de sustos falsos y sustos que no asustan que no hacen más que rascarnos la cabeza hasta salirnos pus. ¿Desde cuándo que Jason toma rehenes? ¿Cuándo el slasher empezó a tomar pautas del cine de torture porn? Pues la respuesta está en los años en que vivimos donde no podemos tener un slasher sincero sin caer en las modas de hoy en día y lo que se considera miedoso o no. La cinta al menos tiene una divertida escena pre-créditos, donde nos muestra algo así como un cortometraje de Viernes 13, una simple y eficaz matanza de Jason, pero dentro de la estructura de la cinta no hay ninguna significación, no se nos informa de nada de lo que no vayamos a saber muy prontamente, es inútil y sólo sirve para decir "MIREN LO QUE PUEDO HACER". Una bazofia. (4/10)