Pues lo que dice el título. Me hubiera gustado ver más películas antes de hacer esta lista semi-definitiva, pero el problema es que cuando traté de ver mejores películas, terminé viendo "Almost Famous" (2000) y dije nuh-uh, la película tiene buena música y sería todo lo rescatable, así que decidí seguir mi instinto y tirar todo no mas, es como cuando hice la lista de las mejores del 2008, ahora es muy distinta, gracias a todo lo nuevo que he visto, cambió hasta el primer y segundo lugar con decirles. Pero basta de charla, es una tarea ardua, son 4 partes de aquí a fin de año, haciendo entradas cada 5 ó 6 días para que puedan ver la lista en su completud. Cada película tendrá un mini-comentario sobre la misma, así que prepárense para leer.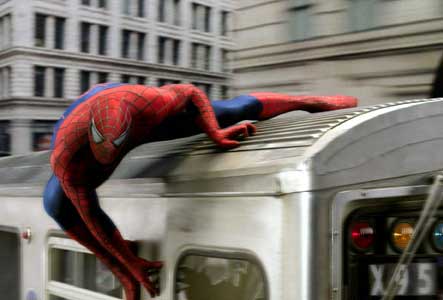 100. Spider-Man 2 (2004)
Para muchos considerada la mejor película de superhéroes de la historia, hasta que apareció The Dark Knight, pero centrémonos antes de dispersarnos. La película es buena, tiene un enemigo poderoso y comprensible, Doctor Ock es una de las mejores decisiones que tomó Sam Raimi al dirigir esta película, así como la decisión de Alfred Molina para ese papel, se configura así como uno de los malvados más grandes de la década y tal vez de la historia. Personalmente él por encima de quien ganó el óscar ese año.
99. Coraline (2009)
Una de las grandes películas animadas de la historia, una de esas que no les da miedo provocar miedo por miedo a que los niños que la ven se asusten (uf.), lo cual fue lo más agradable de todo al ver la película (en increíble 3-D!!), pues se mantenía el espíritu de la obra de Neil Gaiman, a la vez que se es fiel a sí mismo Henry Selick, quien ya hiciera Pesadilla antes de Navidad. Para mí la mejor que he visto en 3-D (sí, he visto un par en mi casa), pero lamentablemente no la mejor película animada del año, lo siento, quería pero no.
98. Das Leben der Anderen (2006)
Esta fue la película que le quitó el óscar a El Laberinto del Fauno, fui a verla con rabia a ver qué tan buena era la película que le había quitado el tan preciado galardón a una de mis nuevas películas favoritas. Terminé alegrándome de que finalmente no fuera tan buena como Fauno, pero tampoco es una mala película, es una de esas que lentamente te van dejando saber y no saber al mismo tiempo los sentimientos de los personajes a través de actuaciones sutiles y situaciones límite que te hacen comer los dedos. Véala, pero con bajas expectativas.
97. La nana (2009)
La única película chilena que me ha dejado algo satisfecho. Sé que no he visto las mejores o más importantes, pero no quiero explorar más allá de lo que la fortuna me entregue, definitivamente no me interesa nada el cine chileno, salvo las dos películas que yo vaya a hacer y esta, un poquito. Esta película, al terminar de verla, dije altiro que debía ir al óscar y que la Catalina Saavedra debía ser nominada a Mejor Actriz, fuimos unos estúpidos politiqueros al escojer Dawson Isla 10, pero quiero creer que llegaremos a algo con la campaña de la Saavedra, sobre todo con el Gotham Award que ganó, aumentan las probabilidades de nominación en un 100%.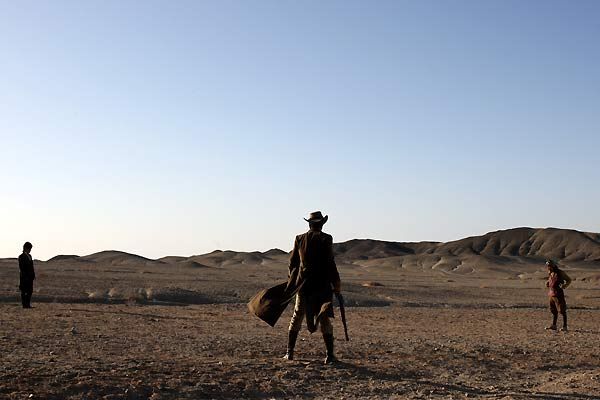 96. Joheunnom nabbeunnom isanghannom (2008)
Un tirón de orejas de atención a los que vivimos en esta época, estamos siendo testigos del renacer del western, ya sea serio como algunas de las que veremos o exagerado y divertido, como este pastiche coreano llamado El Bueno, el Malo y el Raro. Para más información sobre esta película, lean la crítica que hice de aniversario del blog, como en abril o algo así (no, mayo o julio), donde digo lo bueno, lo malo y lo raro de la película. El cine coreano sorprende mucho en estos últimos tiempos.
95. 3:10 to Yuma (2007)
¿Qué les dije del western cabros? Este es serio, pero no es latoso. Tiene grandes escenas de acción, de esas que John Ford hubiera querido tener con John Wayne jovencito, hacerlo colgar de un tren, arrastrarlo de una cuerda por un caballo, etcétera. La película también se ceba en sus actuaciones, ya que tanto Christian Bale como Russell Crowe se las mandan en esta película, además de ser la primera vez que veo al último haciendo de malo (desde el principio). Es uno de esos westerns que no palidecen al ser comparado con los clásicos (italianos o americanos), sino que incluso (shhh voy a cometer un pecado) los supera.
94. 2LDK (2003)
"Señor. Yukihiko Tsutsumi, la verdad es que aquí en nuestro estudio nos sobra la plata, así que le daremos dos actrices, un departamento y cinco litros de sangre falsa, a ver qué puede hacer con eso". Seguro no fue así, pero los elementos que nombro no lo son, la película es sobre dos actrices que quieren un mismo papel y deben convivir en un departamento durante una noche. Esta es sin duda la película de J-Horror que más me sorprendió sin esperar absolutamente nada de ella. Al terminarla dije que quería hacer un remake con actrices chilenas, pero con el mismo conflicto, seguro que lo hago.
93. The Pianist (2002)
La película de Roman Polanski sobre Wladyslaw Szpilman durante el Holocausto sigue siendo una de las mejores sobre ese momento de la historia, es de verdad una de las películas que te dejan pensando en lo que es capaz de hacer el ser humano. A la vez, se transforma en una película en la que Szpilman no pasa por ningún campo de concentración, sino que de escondite en escondite, pagándole tributo a sí mismo Polanski con sus múltiples thrillers y películas de terror, pues a fin de cuentas el Holocausto no es más que un suceso horroroso.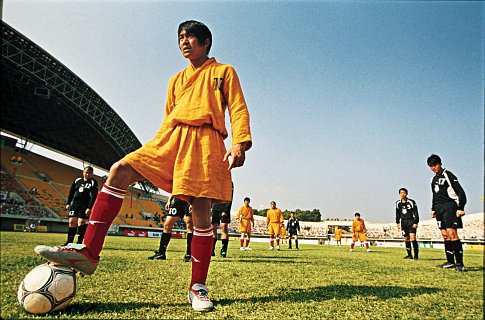 92. Siu lam juk kau (2001)
No puedo dejar de reírme con esta película, es una seguidilla de chistes, gags, humor físico del tipo slapstick que no termina. Pero no deja también de ser arriesgado en sus temas, así como en el humor que puede llegar a tocar, bastante peligroso en algunos sentidos. Shaolin Soccer también fue una de las primeras películas que vi pirateadas, así que guarda un especial lugar en mi corazón infanto-juvenil. Creo que esta es un poco menos episódica que la otra del mismo director, Kung Fu, pero no menos buena.
91. American Splendor (2003)
Puedo decir que esta película triunfa en dos aspectos muy importantes: en la actuación de Giammati, que ahora cada vez más es una clase de actuación, donde no sólo se adopta un tono de voz, sino una actitud, manera de mirar, encorvarse e incluso entregar las líneas como si él mismo las estuviera diciendo, de corazón. Lo otro es entregar una forma nueva de estructurar un relato, mezclando tanto el documental, como la ficción, a la vez que el archivo, los comics, con un poco de animación a la vez. Hay un momento mágico cuando Harvey Pekar y Giammati están sentados el uno al lado del otro, personaje y persona una al lado de la otra, increíble.
90. JCVD (2008)
Ya hable un poco de esta película cuando hice el recuento de lo mejor del 2008, creo que es sin duda lo mejor que ha hecho Jean-Claude Van Damme, ser una burla de sí mismo, creerse el cuento y no ser tan egocéntrico, pues se nota que esa es su actitud, tanto a la hora de estar actuando de sí mismo como si no. A la vez es una limpieza de imagen, creo que ese monólogo cerca del final de la película, donde habla directamente a la cámara, a nosotros, contándonos su vida, donde casi llora, esa es una de las grandes escenas del cine.
89. Noroi (2005)
Esta película sí que da miedo, mucho miedo. Se nos presenta como el último documental sobrenatural de Masafumi Kobayashi, un hombre que se dedica a realizar este tipo de documentales sobre fantasmas, demonios y eventos extraños. Con grandes dotes de actuación podemos llegar a olvidar a momentos que se trata de una película, los extractos de programas de televisión, de grabaciones al aire libre y con cámara nocturna (brrrr) lo hacen una gran película Asian Horror, debemos verla uno de estos días.
88. The Village (2004)
Pues a mí me encantó esta película, es uno más de los grandes éxitos de Shyamalan, con un final sorprendente y una historia que te hace temblar con las posibilidades, las repercusiones y el cameo de Shyamalan al final (jaja). Temo luchar contra corriente, pero creo no estar sólo al decir que es una buena película, incluso una excelente película, de esas que no repiten fórmulas, sino que buscan nuevas formas de sorprender y conseguir ese momento en que la gente dirá Huhn?
87. A Beautiful Mind (2001)
La actuación de Russel Crowe es magistral aquí haciendo de John Nash en esta película con largos trozos ficcionalizados de este ganador del Nóbel. No puedo decir mucho más si no se ha visto la película, pero se puede notar el detalle en la época por las que pasa este personaje, pues se llega a respirar esa fragancia rancia que proviene de la Guerra Fría, esa época donde nadie podía confiar en el vecino, donde el mundo estaba convertido en una caza de brujas.
86. Meet the Parents (2000)
Llegamos a la parte que me gusta llamar el boulevard de los sueños rotos. Películas que una vez estuvieron en mi lista de las 100 mejores, pero cayeron en favor de películas mejores, esta es una de ellas, la única película de Ben Stiller que pude disfrutar sin resquemor, la única que puedo decir que me gusta sin sentir vergüenza y con mucha honra decir que es la mejor que he visto de él. Una obra maestra del humor desesperado, de ese de un hombre inocente culpado de todo, gran película.
85. 21 Grams (2003)
Esta película de entramados y resquebrajamiento temporal es una de las mejores que hay por ahí fuera, además de ser la más parecida a Magnolia que he visto, para que vean que no hay nada que se le pueda llegar a comparar a esa película, ni siquiera llega a las 100 mejores. Una película con esa estructura, que llegó a ser ridículo en Babel (si me hubieran dado dos horas de la historia de la japonesa sordo-muda me quedo feliz), tiene que tener un alto nivel de conexión entre sus historias así como un gran nivel actoral. Esta película cumple con ambas, por eso está por sobre las demás.
84. Corpse Bride (2005)
Otro musical más de Tim Burton, aprovechando su fama como creador de La Pesadilla antes de Navidad (la cual él no dirigió ni escribió, sólo hizo un mísero poema que inspiró todo), hace una película de animación stop-motion que se lleva el premio de ser la mejor de todas (sí, mejor que Pesadilla, no la soporto a veces), contando una historia poco convencional a la vez que tétrica, pese a ser animación. Gran obra, gran música y otra grande de Burton.
83. Vera Drake (2004)
Una película con un gran poder dramático y una gran actuación de Imelda Staunton, creo que una de las mejores actrices actuales. La película, sobre una abortera ilegal en Londrés de mediados del siglo pasado, resulta mucho más impactante cuando se sabe cómo fue hecha la película: completamente improvisada. Todo el diálogo que se encuentra ahí es pura improvisación, eso indica una excelente caracterización y una estupenda forma de preparar a los actores y tener bien preparada una lista de escenas. Esta fue la primera película que vi en El Biógrafo (ahora último vi Gomorra) con el Rebolledo, antes de entrar vi a Christopher Walken, toda una experiencia bebe.
82. Indiana Jones and the Kingdom of the Crystal Skull (2008)
Esta es una gema de película que logra captar completamente ese momento que eran los 50s a través de su literatura pulp, sus películas y sus tremendas actuaciones. No entiendo a la gente que no le gusta esta película, tiene la estrucura y los elementos clásicos de una película de Indiana Jones, está bien que ninguna sea perfecta (salvo una), pero no es cosa de ponerse quisquilloso después de tantos años digo yo, es como ofenderse por un insulto escrito en una pared hace años y que leíste sin querer. No comparo la película con un insulto, pues es todo lo contrario, es una oda a esa magnífica década (fuck 80s) y un agrado volver a ver a Harrison Ford haciendo lo que siempre debe hacer.
81. Mystic River (2003)
La desaparición de una hija puede ser un duro golpe, pero más vale que no sea la hija de un criminal ya probado, por que si no, estás en un aprieto de los grandes, de esos de los que no se puede salir. Pensé que no me gustaba ninguna película de Sean Penn, no me gusta mucho de vista, pero me acordé de esto, es lo mejor que le he visto a este tipejito, es buena onda y todo, pero no es de mi agrado. Clint Eastwood sin duda es uno de los directores grandes de esta época.
80. Signs (2002)
Sí, otra de Shyamalan, una muy buena, una con la que demuestra que se puede hacer una película de aliens sin mostrar a los aliens mucho (au contraire Día de la Independencia, que pese a todo les sale mala). Creo que esta película fácilmente tiene dos de los momentos más thrilientos de la historia, la grabación de Brasil y la parte del cuchillo. La claustrofobia se siente en las últimas partes de la película y se nota que él es un maestro en lo que es ambiente.
79. Gladiator (2000)
Ridley Scott se las manda con una película de acción que es fiel a todas las otras películas anteriores de romanos, tomando a la vez su propio twist histórico-ficcional que le permite discurrir como quiera a lo largo de su tremenda y sorprendente narrativa. Russel Crowe, creo, es uno de los actores que se han revelado y se han mostrado como uno de los más importantes de esta década, pocos lo acompañan, pero mas vale solo que mal acompañado.
78. Bakjwi (2009)
Empezamos ahora con las que están en el ranking de las 100 mejores... está bien, no son 100, pero qué se puede decir, veo muchas y tiendo a ver películas muy buenas, para que piensen que esta no la vieron en el ranking, la agregué después yo. Esta es la última película de Chan-wook Park, sobre un cura que se transforma en vampiro a causa de una operación que sale mal, pero que junto con la sed de sangre, viene una sed sexual que antes no había. Esta es una de las películas que más esperaba del 2009, se ha mostrado competente, pero nada más.
77. Zodiac (2007)
Ya hablé un poquito de esta, ahora entiendo por qué está tan abajo en el ranking, pese a lo que me gusta esta película, es porque esas tres horas de película cansan, lo cual es bueno en un sentido de que uno se siente absorbido por la trama y el esfuerzo que lleva la búsqueda del asesino en serie, pero a la vez no permite disfrutar el final, pues nos deja con ganas de más.
76. Ju-on (2002)
¡Bajo presupuesto, venid a mí! ¿Cómo es posible que con algo tan barato pueda darte el susto de tu vida? Los fantasmas de esta película J-Horror no son lo único que da miedo, la atmósfera te llena de incertidumbre, así como la narrativa desordenada. Sé que el Grito ahora se ha vuelto algo cliché, pero volver a este filme es esencial, te dará mucho miedo.
Y así se fueron 25, pronto la segunda excitante parte de este recorrido fílmico del TERRORRRR.