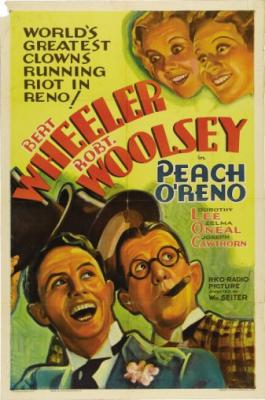 Y tenemos con nosotros la penúuultima entrada de esta primera temporada de Sam's Flick Picks. Aunque la segunda temporada aún no tiene fecha de inicio, si puedo asegurarles algo: será larga y tendrá otro nombre seguramente, el cual será anunciado oportunamente, tal vez hasta tenga otro "horario", pero de eso hablaremos cuando lleguen los más de 100 DVDs de Sam Juliano. Sí, yo ya me he dado tres cachetadas para ver si en una de esas estoy soñando, pero bueno, sigamos adelante con esta entrada que tenemos de una película que me sorprendió.
Soy el primero en reconocer que me encantan las comedias, sean de donde sean, siempre y cuando sean graciosas, rápidas y llenas de chispa interior, tendrán un lugar en mi corazón. Luego viene mi fanatismo por las películas de Abbott y Costello, que son una delicia para mi paladar cada vez que aparecen en escena y hacían una de sus rutinas, pero finalmente sus películas se iban abajo por la sobre exposición dada a otros personajes dentro del filme y que eran, supuestamente, los verdaderos protagonistas. Bueno, esto no pasa en esta película de una pareja de comediantes estadounidenses de los años 30: Wheeler y Woolsey.
Ellos son los protagonistas de su propio film y es uno muy gracioso, ellos dos son abogados que se han instalado en la ciudad de Reno para realizar divorcios rápidos y asegurados al instante por tan solo 100 dólares, a ellos llegan ambas partes del matrimonio Bruno (además de sus bellas hijas) entrando en la disyuntiva de que tienen que defender a ambas partes en el caso, pero eso es tan solo el principio. Después de una serie de juegos verbales ingeniosísimos, descubrimos que su local de abogacía se transforma en un local nocturno donde se conocen las parejas recién separadas.
Las cosas que suceden son bastante atrevidas y sugeridas para una película de 1931, de ahí que sea conocida por su calidad de Pre-Code (como la anterior Sam Flick Pick), donde vemos cómo un grupo de mujeres se desnudan ante nosotros sólo para quedar en ropa interior y que sólo una voz de autoridad las impida seguir. También somos testigos de cómo uno de los dos abogados se viste de mujer para poder estar con el señor Bruno, a fin de darle celos a su esposa, y el otro abogado sale con la señora Bruno para causar el mismo efecto. En definitiva, aunque tiene escenas como la del baile que no son para nada destacables, la escena final en la corte es para reirse sin parar.
Recomiendo esta oscura película por que tiene las risas suficientes, además del riesgo de ser Pre-Code, lo que deviene en un montón de chistes que requieren una mentalidad diferente para comprender. Sobre el DVD, no mucho que decir, Sam mandó un Warner Archive realmente impecable y que es la mejor forma de ver esta película.
Noticias de "The Adventures of Tintin: The Secret of the Unicorn" (2011) #2
Les dejo el trailer para la película.