Actor, director, Dios, qué triste. Se ha perdido un increíble talento, muerto por su cáncer de próstata, hizo demasiadas películas, pero sin duda que podía seguir años entregándonos lo mejor de sí. Como siempre, he decidido ir cronológicamente a través de su carrera, encontrando los puntos de las películas que he visto, así que acompáñenme en la carrera de este gran hombre que luchó para mantenerse vivo y finalmente perdió.
Primero quiero dejarlos con este
link
, con un video essay sobre Dennis Hopper, mostrando varios puntos de su carrera, todos interesantes a la vez que reveladores.
1955
: Su primer trabajo en el cine fue en la película protagonizada por James Dean, "Rebel Without a Cause", donde hacía el papel de "Goon", seguramente un joven más con chaqueta de cuero. Arriba se puede ver en qué escena de la película sale, no sé si realmente saldrá más. Lo curioso es que también actuó en "Giant", la última película de James Dean, al año siguiente, en un papel mucho más grande. Eso lo hace importante, fue una de las personas que trabajó, por cosas del destino, en sus dos últimas películas.
1969
: El trabajo por el cual será recordado es este modesto filme sobre la cultura hippie en Estados Unidos. Además de actuar en ella en el papel de "Billy", la dirigió y escribió, siendo este el movimiento que lo hizo conocido a nivel mundial. Realizó siete producciones más, pero ninguna con el nivel de éxito que alcanzó este reconocida obra maestra de una generación.
1979
: En la película "Apocalypse Now", este hombre hace el papel de "Photojournalist", el personaje paranoico y loco tremendamente genial, de verdad que aliviana un poco la presión del momento de la película, con sus "friend", sus "if", todo lo que dice es demasiado bueno. Aparte, creo que está entre las mejores actuaciones que ha hecho. Les dejo un video para que vean el trabajo de este hombre.
1986
: Ahora la que sea la mejor actuación que le he visto a este hombre es la que hace en la obra maestra de David Lynch, "Blue Velvet" como "Frank Booth". Es tan completa, tiene muchas cosas que uno puede descubrir, insinuaciones, secretos, claves para entender, etcétera. Además, da miedo, es como si lo tuvieras al lado tuyo, cada vez que veo un video de él se me pone la piel de gallina. Lo mejor de todo es que aceptó el papel, pues dijo que cuando leyó el guión, encontró que se parecía demasiado al personaje... ahora, sabemos que fue una buena persona, pero... cada uno sabe cómo es por dentro.
Este año fue muy ocupado para Hopper, pues realizó "Hoosiers", que le valió una nominación a mejor actor en los Oscares. Pero también hizo una película de terror, "The Texas Chainsaw Massacre 2", donde de verdad se va al chancho con su actuación de "Lieutenant 'Lefty' Enright", el acento predomina su voz y la película es muy entretenida, sobre todo en la lucha final, la que pondré abajo para que disfruten. "I am the Lord of the Harvest".
1993
: La Película "Super Mario Bros." no es una buena película. De hecho es mala, muy mala, malísima. Pero de toda la película, lo más entretenido es ver la locura de Hopper, luchando por actuar con un material tan malo. Está lejos de ser su mejor actuación, pero tampoco es la peor, sin importar cuanto odies la película, puedes encontrar su genio en el papel de "King Koopa".
1995
: Son dos películas juntas aquí que No Soporto, en serio, "Waterworld" fácilmente puede ser la película más larga y mala que he visto. Cada decisión está mal hecha, todo por el ego de... bueno, sabemos de quién. Nuevamente el único momento de provecho que podemos sacar de esta película es el personaje de "Deacon", interpretado por Dennis Hopper, nuevamente el malo malísimo de una película mediocre.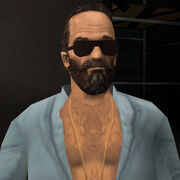 2002
: Aquí hay una rareza. Dennis Hopper hizo la voz de un personaje de videojuego, el de Steve Scott en "GTA: Vice City", dándole una actitud suya a un personaje bastante gracioso.
También hizo del primer malo malísimo de la serie "24" en su primera temporada el mismo año 2002. Se nota que hay cierto rumor de "type-casting" alrededor de él, pero cada vez que hacía de "Victor Drazen" en esa serie, era un bomba.
2005
: En la película de George Romero "Land of the Dead", hace de "Kaufman", que con joyitas como "Zombies, man. They creep me out." o "We do not negotiate with terrorists!" hace de una metáfora de Bush demasiado graciosa a la vez que crítica.
Espero encontrar muchas más cosas de este gran hombre. Hasta ahora, sólo digo que descanse en paz Dennis Hopper. RIP.